10 Ways Food & Beverage Pos Systems Can Help Your Business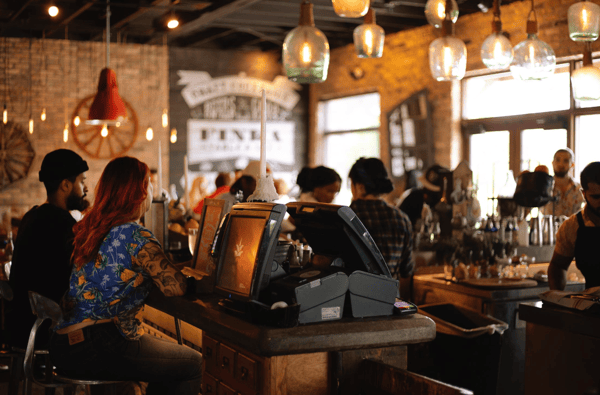 Food & beverage point-of-sales systems are ideal for any business that operates out of a fixed location. Customers utilize the services by visiting directly to your location, where they can place their orders with food servers or kiosks. This allows you to generate more revenue in your restaurant or bar by increasing sales volume, with no additional labor costs.
Track Sales & Trends with Detailed Data
An f&b POS system is extremely useful in analyzing sales data for your business. With real-time reports, you can track the performance of each menu item throughout the day. This detailed information enables you to adjust pricing or offer discounts on underperforming items.
Barcode scanners are commonly used to both read orders placed by customers at the point-of-sale. If you have a POS system with multiple users, each employee's order can be logged separately for accurate sales tracking. You will also gain valuable insight into your most profitable hours of day and even specific days of the week.
Reduce Costs & Improve Efficiency
Food & beverage point-of-sales systems can help to optimize your business operations by reducing costs. With the ability to print out receipts directly from the f&b POS system, you no longer need till rolls or cash register tapes to record transactions in running order.
Given that all transaction data is stored in one location, the process of reconciling daily receipts is streamlined. With barcode scanners the servers can quickly record table numbers on orders without needing to wait for a cashier to ring up their tips separately.
Improve Customer Satisfaction & Loyalty Programs
With today's technology, you can easily improve your customer satisfaction levels by utilizing food & beverage point-of-sales systems with mobile capabilities.
Customers can quickly find items on your menus, make substitutions to custom orders, and more directly at their tables through mobile devices. This also enables you to market loyalty programs right from the POS system, which will help drive repeat traffic throughout your business day.
Save Time & Money with Pre-Authorization & Pre-Ordering
Food & beverage point-of-sales systems include pre-authorization and pre-ordering capabilities to help your business save time while also increasing the efficiency of your operations.
With this functionality, you can authorize or fill orders prior to receiving payment information. You can even offer reduced wait times for customers by enabling them to order ahead. This results in less time required per transaction, with fewer errors and faster service.
Ensure Food Quality & Safety
By utilizing food & beverage point-of-sales systems in conjunction with digital menu boards, you can ensure that your business is operating at peak levels of food quality and safety.
With digital displays, you can provide detailed information on how each dish is prepared, including the total cooking time and preparation steps. This helps your food servers to prepare dishes more accurately with less risk of cross-contamination or burns.
Customers also have the ability to view information of each dish, allowing them to make more informed choices on their orders.
Improve Customer Experience with Customizable Menus
With today's technology, you can easily improve your customer experience levels by offering customizable menus with food & beverage point-of-sales systems. With these types of systems, customers can simply highlight the items they wish to order directly on the screen with their fingers.
Additionally, if a dish comes with multiple options or components, you can highlight each component to provide complete transparency. This is a great way for customers with specific dietary needs to see if their dish will meet their needs.
Embrace the Digital Experience
Food & beverage point-of-sales systems are designed to seamlessly integrate with your other digital channels, including website and social media pages. These tools can be customized to provide your customers with an easy-to-use, all-in-one solution to manage their entire experience.
For example, customers can easily browse onsite or offsite and place orders according to their schedule, then pay directly on the screens of the POS system.
If you choose to include social media capabilities in your food & beverage point-of-sales system, you can connect your Twitter or Facebook page to the POS system. This will make it incredibly easy for customers to share their experiences in real time with followers and friends.
Streamline Order Entry & Fulfillment
By utilizing food & beverage point-of-sales systems that are designed with mobile capabilities, you can easily offer mobile ordering capabilities to customers. With this tool, the entire order-taking process is expedited.
Customers can access menus, build their orders and pay directly through their mobile devices. This not only improves your operational efficiency but also reduces wait times for customers by eliminating multiple steps in the process of fulfilling an order.
Generate Higher Average Check Values
Keeping in mind that the average check size for guests dining in is larger than at-home consumers, it's important to provide your business with tools to generate higher average check values.
One way to do this is by offering the option of customized menus with food & beverage point-of-sales systems so that you can easily offer upsell opportunities to your customers.
For example, if a customer orders a burger and fries as an entrée, you might suggest adding on a side salad for $1 more. This leads to higher check values per entree and also improves the overall dining experience as it gives customers additional items that they may not necessarily request on their own.
Improve Labor Efficiency
When it comes to labor costs, you should look for opportunities to improve efficiency in the back of the house.
Food & beverage point-of-sales systems that are designed with kitchen printers can print orders directly from your POS system to your kitchen printer. This ensures that the correct dishes go out at all times and is a great way to truly streamline your operations. By eliminating steps in the order taking process, you will prevent wasted time and reduce labor costs.
It is easy to see why food & beverage point-of-sale systems are so popular with today's leading restaurants, bars, and other outlets. Food & beverage point-of-sale systems offer numerous benefits that help you better track customer behavior, streamline your operations and increase productivity in the back of the house.